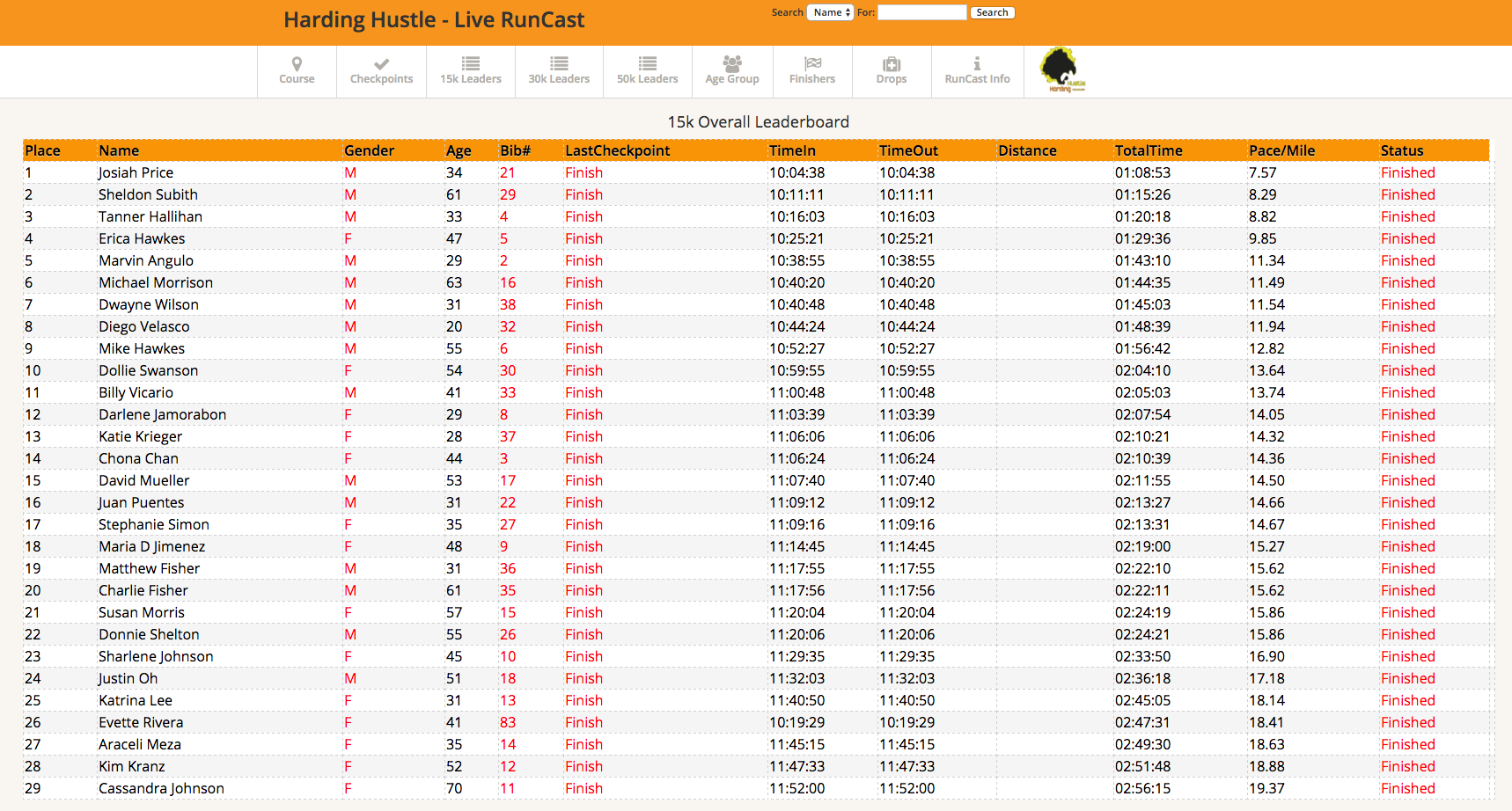 Screenshots
On the left is the main screen shot showing the runner leaderboard. You can see some other screenshots below, or click here to visit a sample website.
---
Aid Station progress list

Runner detail page
Update form #1

Update form #2 (with bib# buttons)
Pricing
Our CHIPLESS solutions does require a finish line operator (who simply types a bib and hits "enter" when they cross the line), but you will find it is MUCH cheaper that chipped timing solutions AND it is independent of the size of your race. We don't penalize you for having too many runners!

Custom Software requires 2-4 weeks delivery time (plus 1 week for each race distance beyond 2 - ie. a race with 4 distances will require 4-6 weeks delivery time). We will contact you within 24 hours of purchase to get necessary information to set up your custom software.

As a runner passes each checkpoint during the race, the data is given to the race HQ for data entry (or entered at each checkpoint). Once this tracking data is added for each checkpoint, LiveRunCast shows current results. With this data you can track the current pace of your runner (and all runners), current place, whether or not they have dropped, how far they have run so far, and more!

Main Package: $675

Customized Software (up to two distances included)
Hosted Website (plus one year online archive)
Custom Address (ie. http://www.liveruncast.com/yourracename)
2 Hours of support

Annual Renewal
Annual Software renewal cost (for code updates, new features, etc) $199
Each Additional Race distance (beyond 2) $99



Onsite RunCast Operator (includes free support during event): $50/hr + Travel Costs


Travel costs within 100 miles of San Diego, CA = $50 (no lodging required)
Travel costs outside of 100 miles of San Diego, CA may require airfare and/or lodging. Please contact us for more details.
Approximate Fees: Races with no time limit will be billed as $15/Mile (minimum $250). Email us for Purchasing info.

Approximate Fees:

$250 - Marathon (and under)
$450 - 50K (9 hours)
$700 - 50M (14 hours)
$900 - 100K (18 hours)
$1250 - 100M (25 hours)


*If you are self hosting Live RunCast you will need a webserver with php and mysql installed.